I'm retiring one day soon
Won't be up and out till noon.
Though I'll miss you all ... it's true
I'll have fun and not be blue.

(Refrain)
No more push ups
No more sit ups
No more wake ups
I'll just get up


Till I rise at 10 AM
Keep the bedroom lighting dim
Then I'll move and hit my stride
Playing golf..where I can hide

(Refrain)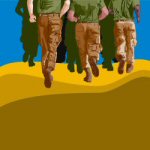 No more will I rise by five
And pretend I'm half alive
Now I'll do just what I please
'Cause I've earned a life of ease




Major duties will unfold
To fill my days…that's what I'm told.
Got a list of honey-dos
Many options I can choose.

Maybe they'll give me a watch
Bring my dress code up a notch
Maybe I'll just take a cruise
Get some sun and drink some booze.


Hang my B-D-Us upright
In the closet – out of sight
And I'll think of days gone by
But you'll never see me cry.

Sure it's tough to say farewell
Since the times we've shared are swell
Better days you 'll find ahead
But don't forget the things we've said.

(Refrain)


Come on….come on
Good life…good life
Come on good life
Come on…good life.

I know when a warrior leaves
And turns civilian, he believes
Life out there is filled with bliss
No more M-R-Es to miss

Retirement living must be fine
And one day it will be mine
I'll buy a house and settle down
With new retirees all around.

Some day I will reach old age
Different lifestyle at that stage.
But you'll see me fit and spry
Wearin' khakis, tennis shoes and ties.