Table decorations for a
90th birthday
Table decorations for a 90th birthday party don't have to cost a fortune. You can make memorable table decorations for a 90th birthday party by using pictures and cards to show high points of a person's life.
These decorations were a little more labor intensive than commercial flowers but they were a hit and brought tears to the eyes of my husband's mother.
First, my daughter and I collected good photos of Meme from throughout her life, scanned them and arranged them on notecard paper that you can buy from any office supply store.
Printing the cards proved to be a challenge for our aged inkjet printer, especially when trying to run them through a second time, so I ended up printing the images on one side and then printing the inside photos on regular paper which I glued to the notecards.
Also, since her faith is a major part of Meme's life, we ordered some silver crosses and put them on the tables for guests to take. They were not intended as a memento but rather as a reminder of Christ that the person could carry around. The "Cross in my pocket" pieces are available from several religious supply houses on the internet.
We completed the table with vibrant fushia ribbons, one of Meme's favorite colors, creating table decorations that were personal and memorable.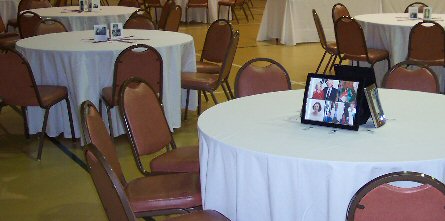 ---
Return from Table decorations for a 90th birthday to home page