Tributes and citations
Tributes are speeches or written presentations that honor someone for an outstanding job or contribution to the community? Such speeches differ from toasts in that they are longer and more elaborate. A roast is a series of short, humorous speeches.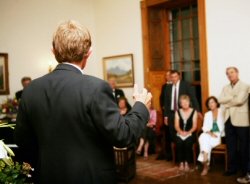 Usually such presentations are heartfelt and personal in tone. When you are making an honorary speech, you should include material that is both general and specfic:
general

about what someone means to others or to an organization;



specific

about unique experiences you have had with the person in the spotlight.
Whether you are preparing a written citation or a speech, you should answer some basic questions before you begin.
Who is my audience and what is their relationship to the honoree?

In general terms, what has the honoree done for these people or this place?

What one instance or situation describes what this person has done for others?

What does the audience not know about this person?

What is one instance or situation that only you know about describes this person's character?

If you had to describe this person to a stranger, what would you say?

When, if ever, did this person do something that made you laugh?

What quote or well-known saying applies to this person?
If you can answer those eight questions, you have the outline for a classic speech.
If you want a truly special tribute, consider asking a lyrics writer to compose a song tailored to the person and the occasion.
As you prepare your remarks, remember these pointers:
Work in your own personality. Be energetic and lively but also be comfortable with your own style. You're probably not an actor or million-dollar speaker; you're a friend who knows this person well enough to say something meaningful on the special occasion.

Shift the topics around to make the speech flow in a way that is comfortable for you.

Get a good opening line.

Get a zinger of a closing.
Practice. You can give an authentic speech when you know your material so well that it's like a conversation -- not a rehearsed presentation.
Do this and your tribute will be memorable and sited to the special occasion.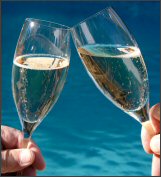 See also
Tribute to mother

Quotes about Dad

A sample speech honoring a volunteer

Birthday toasts

Retirement speeches

Anniversary toasts

Site directory


---
Return from Tributes to home page