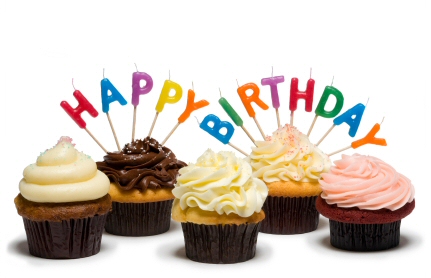 Humorous birthday toasts and funny sayings give us a chance to laugh at the trials and tribulations of growing older. Afterall, advancing birthdays are much better than the alternative.
If there's a significant birthday in your
future -- a birthday that ends with a
zero or a five -- celebrate with guests and offer a funny birthday toast. Remember what Marie Antoinette said:



"Let them eat cake"
There are hundreds of humorous birthday toasts. You've no doubt heard some of these funny birthday sayings:
Lordy Lordy -- Look who's 40

Isn't it nifty--Fred is 50.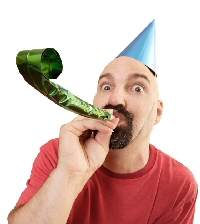 Here are a few more:
If your birthday party guests have a good sense of humor, you might want to pull out these adaptations below of popular birthday sayings and stories or check out this collection of baby boomer humor:
Humorous birthday toasts and sayings
You're over the hill when your back goes out more than you do.
--Anonymous
Age is strictly a case of mind over matter. If you don't mind, it doesn't matter. -- Jack Benny
You know you're getting old when you bend down to tie your shoelaces and then think about what else you might do while you're down there.
--George Burns
The generation gap is one war in which everybody eventually changes sides.
-- Cyril Connolly
Dr. Seuss on the golden age (slightly modified from an earlier version)
The golden years have come at last,
Why don't I feel this is a blast?

I cannot see, I cannot pee.
I cannot chew. What can I do?

My memory shrinks. My hearing stinks.
No sense of smell..I look like hell.

My body's drooping, got trouble pooping.
And people ask, "Why am I stooping?"

The golden years have come at last.
The golden years can kiss my ass.

Senior life on the highway
As a senior citizen was driving down the freeway, his cell phone rang. Answering, he heard his wife's voice urgently warning him,
"Herman, I just heard on the news that there's a car going the wrong way on 280. Please be careful."
"Hell," said Herman, "It's not just one car.
It's hundreds of them!"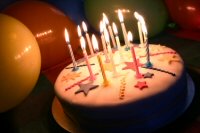 See also
Toasts and sayings celebrating wisdom
Toasts for the glorious middle ages
Retirement toasts
Toast tips
---
Return from Humorous birthday toasts to home page