The tradition of wedding toasts
Wedding toasts are the traditional way to honor the bride and groom. They can be as elaborate or as simple as the ceremony itself and have become as much a part of the event as the bouquet toss or the cake topped with a bride and groom.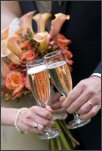 The two occasions when people usually make toasts are at the rehearsal dinner and at the wedding reception. People offering toasts at the reception will be family and friends of the bride and groom. At the rehearsal dinner toasts are usually limited to family members and those in the wedding party.

When you are planning the wedding reception, you should also plan the toasts. Shorter toasts are better at the reception, especially if it includes dinner and dancing that will continue into the evening. People have a limited attention span so most toasts should be less than a minute except for the wedding speeches by prominent members of the wedding party.

The rehearsal dinner is usually less formal and has a smaller guest list which gives more latitude for people who want to make a special speech or toast for the soon-to-be-married couple. You may also want to consider using a wedding poem.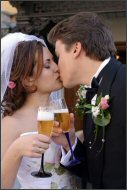 Although anyone who has a close relationship with one or both of the newlyweds may want to make a speech, it is a tradition for certain individuals to offer remarks. Those people include

The toasting order may vary according to tradition or preference.

The bride and groom should also prepare to say something to each other and to those who have gathered for the occasion.

---
Rules for offering a toast
Best man or groomsman
Father of the bride
What about champagne?
The order of toasting
Return from the tradition of wedding toasts to home page