Anniversary toasts and speeches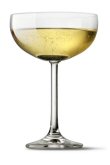 There is an art to anniversary toasts and speeches just as there is an art to staying married. We tend to celebrate the big ones -- the 10th, 25th or 50th -- but all anniversaries deserve special notice. Perhaps a 12th anniversary does not warrant a blow-out party, but if you take a couple out for their anniversary, you'll certainly want to make a toast or say something appropriate.
Or send the special couple a card using some of the sentiments you see here.
While all anniversaries should be celebrated, there are traditional times when remembering an anniversary often go beyond a quiet dinner or an exchange of cards and gifts.   If you need inspiration for anniversary toasts and speeches, you'll find no shortage of words of wisdom about marriage.
Probably the anniversary which is celebrated most often with family and friends is the 50th. . . known as the golden anniversary. According to the Census Bureau, fewer than 5% of all marriages last 50 years. If a couple reaches that mark, they have beaten the statistical odds for a long-term covenant and deserve the congratulations of those whose lives they have touched.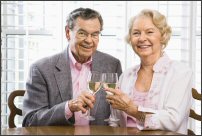 By the time a couple has been married 50 years, they have a comfortable ease that says they're in it for a lifetime.
At the point of the 50th anniversary, a couple's children are grown and grandchildren are probably close to being adults. They have peaked in their working lives and retirement is here or near. The fact that a union has remained stable and solid for five decades is certainly a landmark to celebrate!
Other anniversaries also have special designations. The 25th is the silver one, and the 75th anniversary -- for couples who are lucky enough to make it that long -- is labeled the diamond anniversary. Indeed, there is an anniversary gift designated for almost every year of marriage.


Often, people who have been married for decades have all the "stuff" they need. So it is popular for people to give a gift to a couple's favorite charity as a tribute to their long marriage. But if you're the traditional type, you might want to give a gift that goes with a certain anniversary. Or the traditions associated with a 5th, 25th or 50th anniversary could become part of your toast or anniversary message.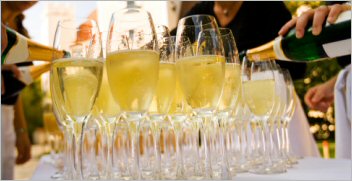 When offering anniversary toasts or speeches, be sure to congratulate the couple and make mention of significant points in their lives. You should also invite others to share special memories about the couple. Ideally, ask one or two people close to the anniversary couple if they would like to make some remarks. You should contact them ahead of time so they can prepare.
For inspiration, refer to some of the more popular anniversary toasts and sayings which blend humor with stereotypes.
(Cautionary note to any of you who are sensitive  types: 
some  toasts get their humor from stereotypes.)

Sample anniversary toasts and speeches
Here are some phrases that have been used in anniversary toasts and speeches. Pick what is helpful and adapt to the couple you are honoring.
A bit of humor
In the first year of marriage, the man speaks and the woman listens.
In the second year of marriage, the woman speaks and the man listens.
In the third year of marriage, they both speak and the neighbors listen.

There are two occasions when a man doesn't understand a woman – before marriage and after it.
 
A husband who wants a happy marriage should learn to keep his mouth shut and his wallet open.
                    --Grocho Marx
Women's faults are many
But men have only two—
Everything they say
And everything they do.
                 --Anonymous

To keep your marriage brimming,
With love in the wedding cup
Whenever you're wrong, admit it;
Whenever you're right, shut up.
                   --Ogden Nash

Marriage is the alliance of two people, one who never remembers birthdays and the other who never forgets them.
                         --Ogden Nash

Thoughts for sincere wishes

Under this window in stormy weather
I marry this man and woman together;
Let none but Him who rules the thunder
Put this man and woman asunder.
            -- Jonathan Swift
True love never grows old.
            -- Proverb
An anniversary is the time to celebrate the joys of today, the memories of yesterday and the dreams for tomorrow.
             -- Anonymous
The best and most beautiful things in the world cannot be seen or touched; they must be felt.
              -- Jonathan Swift
The best and most beautiful things in the world cannot be seen or touched; they must be felt.
               --Hellen Keller
A good marriage is like a casserole; only those responsible for it really know what goes into it.
        -- Oscar Wilde
A happy marriage is the union of two good forgivers.
               -- Robert Quillen
Marriages are like fingerprints; each one is different and each one is beautiful.
             --Maggie Reyes

There is no more lovely, friendly and charming relationship, communion or company than a good marriage.
            -- Martin Luther

Marriage halves our griefs,
doubles our joys
and quadruples our expenses
               -- Proverb


More marriages might survive if the partners realized that sometimes the better comes after the worse.
                     -- Doug Larson
A good wife and health
Are a man's best wealth.
                       -- Proverb
Let anniversaries come and
Let anniversaries go – but
May your happiness continue on
Forever.
                      --Anonymous
Here's to the husband
And here's to the wife
May they remain
Lovers for life
                      --Anonymous

A successful marriage requires falling in love
Many times…with the same person.
                      --Mignon McLaughlin
May we love as long as we live
And live as long as we love.

To love a person means to agree
To grow old with him.
                          --Albert Camus