Anniversary toasts and speeches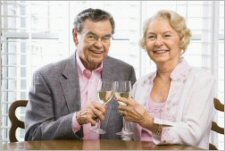 There is an art to anniversary toasts and speeches. If a couple is celebrating their 50th wedding anniversary, they deserve the admiration of family, friends and others whose lives they have touched.

By that time, they have been married 50 years, their children are grown and grandchildren are probably close to being adults. The fact that two people have remained married for half a century is certainly worth a toast!

Check out our anniversary toasts and sayings that celebrate the landmark occasions. Some are humorous, some are stereotypes and all will give you ideas for making your comments entertaining for the couple and your audience.


The 50th is known as the

golden anniversary.

The 25th is the

silver

one, and the 75th anniversary -- for couples who are lucky enough to make it that long -- is the diamond anniversary.


| | | |
| --- | --- | --- |
| Indeed, there is an anniversary gift designated for almost every year of marriage. While it is becoming popular for people to give a gift to a couple's favorite charity in their honor, the traditional gifts that go with certain anniversaries may become part of the toast. | | |
When offering an anniversary toast, be sure to

congratulate the couple

and comment about

significant points in their lives.

You should also invite others to share their fondest memories about the couple.

Whatever you do, keep the mood light and your comments brief. A golden anniversary marks a significant milestone in life. When you consider that half of all marriages break up within a few years, the fact that a couple has remained together for half a century is remarkable. Just be sure you don't make your audience feel that they are reliving a half century in your tribute.

Pick out a three or four highlights of their lives together, say something humorous or wish them well and then let other speakers or the couple themselves take care of topics you have left out.

---

Traditional anniversary gifts
Toasting at weddings
Sample wedding toasts
Retirement toasts
Birthday toasts
Site directory
Return from Anniversary Toasts to home page