More momisms
Every family has their collection of sayings they heard repeatedly from mother. We know these as momisms. These kernels of wisdom make excellent reminders for Mother's Day when you want to let Mom know that you really did listen.
This collection of momisms from our family made us smile.  They came from Backson, Jocelyn and Mary Catherine  who remembered some of the kernels of wisdom from the women who raised and influenced them.
Do any of these sound familiar to you?
Momisms we grew up with
Another day...another dollar.
I love you anyway.
An expresson Backson used when Mary and Will totally exasperated her.
Home again...home again...jiggidy-jog  
(An expression Kathy M. used after a long car trip as the excitement of being home but the disappointment of the adventure being over.. This was an adaptation of the Mother Goose  rhyme:
To market, to market to buy a fat pig
Home again, home again, dancing a jig;

To market, to market, to buy a fat hog;
Home again, home again, jiggety-jog;

To market, to market, to buy a plum bun,
Home again, home again, market is done.)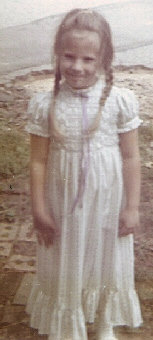 Don't judge someone until you've walked a mile in their shoes.
♫ Good morning to you, good morning to you!
We're all in our places, with bright shiny faces
And this is the way to start a new day.  ♫
(Sung in the morning at Jocelyn's bedside to wake her up.)
That's their little red wagon.
(It's not your concern what that person does.)
Do SOMETHING....even if it's wrong
(Instead of nothing.)
Always leave your house in dying condition.
Quoted from Grandmother Douglas who used to say that when Mary was cleaning up the house. 
That's why they make vanilla and chocolate
Regarding differences of opinion.
What does a mother know?
From mother Kathy who used to say that when her three boys argued with her.

Don't make me come in there!
(A classic threat that has gotten children to behave for generations)


It's not about what you want...it's about what you need.
Wisdom from Meme
If you can't dress up for God, who can you dress up for?
Wisdom from Goo Goo who had strong opinions about proper dress for church.

From the movie Mary Poppins -
That's a piecrust promise...easily made, easily broken.
Well begun is half done.

In every job that must be done, there's an element of fun.
You find the fun and...SNAP
...the job's a game.