Wedding Toast Rules
Wedding toasts, a highlight of the wedding reception, follow definite rules that you should heed. Otherwise you'll come off looking like you don't know how to toast. If you want to look like a pro and not a jerk, check out these dos and don'ts.
(For general toast guidelines, see
Toast Tips
.)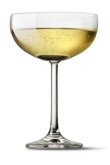 Toasts should last only a few minutes

and should begin as soon as the champagne is poured. Be sure everyone has something to toast with before you start.



Keep your remarks chatty and short.

It's perfectly okay to funny, emotional or both.

Making jokes about the bride and groom is fine. Just be sure your material is funny and clean.



Don't worry if you become emotional.

Marriage is a time when everyone thinks about matters of the heart. Just don't get so caught up in your feelings that you ramble on and on.


If you have trouble with public speaking,

start off with a quote

and then relate that quote to something about

the bride and groom.




Another approach in starting a toast is to say something about a deceased family member or friend who was unable to attend. Talk about how proud or happy they would be that the bride and groom have found each other.
Whatever you say,
do not
:
Tell stories about the couple's childhood that have nothing to do with the wedding and are embarrassing to the bride or groom. This is not a roast. Be sure your story is relevant to the occasion.


Mention any past romances or affairs.


Refer to any past problems the couple may have had.


Talk on and on inspired by an overdose of alcohol and sentimentality.


Talk about yourself. It's not about you…it's about them.
---

Wedding toasts
Best man toasts
Father of the bride toasts
Toast tips
Toasting with champagne (and other beverages)