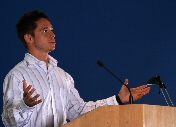 Every person in business will eventually have to sell an idea, whether it is through speaking or a written report. Often you will need to do both as you prepare a business presentation but also want to leave behind some written matterial so those hearing you can have something to refer to later.

All business presentations have at least four elements:

You must inform. Tell listeners about your product or service and how it can solve a problem they are having.

You must establish credibility. People believe you know what you are talking about when they are comfortable with your background, your demonstrated expertise or the values and interests they believe you share with them.

You must persuade. If your field is sales or marketing, your goal is to get others to come over to your way of thinking and take action; that action could be buying a product, voting in favor of a program or approving a budget. Your job is to guide your listeners or readers to a point where they are ready to agree with your point of view.

You must entertain. Entertainment is the commodity sadly lacking in most business presentations and is the element that sets the most successful people apart from the great masses.

Free download
Pump Up Your Prose
The Rx for Flabby
Business Writing
This free guide contains the important business writing rules you need to make those memos, proposals and reports clear, concise and correct.
To get your copy, click here.